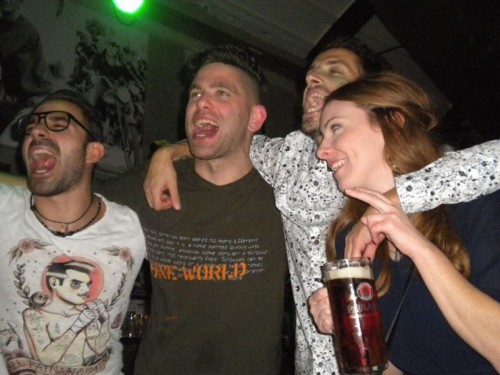 LA "LEONESSA D'ITALIA" RUGGISCE ANCORA
1 anno fa
Grazie per la seconda volta in quest'anno, L'ORSO FURIOSO!!!
Un bel ritorno per i SUPERNOVA nel locale più rock di Brescia e che ha permesso alla band di presentare il nuovo spettacolo con il quale viene riproposto integralmente lo storico live dei fratelli Gallagher a Knebworth del 1996.
Questa pertanto la scaletta della serata:
THE SWAMP SONG
COLUMBIA
ACQUIESCE
SUPERSONIC
HELLO
SOME MIGHT SAY
ROLL WITH IT
SLIDE AWAY
MORNING GLORY
ROUND ARE WAY
CIGARETTES & ALCOHOL
WHATEVER
CAST NO SHADOW
WONDERWALL
THE MASTERPLAN
DON'T LOOK BACK IN ANGER
MY BIG MOUTH
IT'S GETTIN' BETTER (MAN!!)
LIVE FOREVER
CHAMPAGNE SUPERNOVA
I AM THE WALRUS
E con i bis di ROCK 'N' ROLL STAR e CUM ON FEEL THE NOIZE Fabio, Lucky e soci hanno dato appuntamento a Roberto, tutto lo staff del suo locale ed ai tanti MAD FER IT accorsi al prossimo anno.
In arrivo c'è un bel week-end a base di brit-pop: venerdì 2 dicembre SUPERNOVA live al THE BIG di Torri di Quartesolo (VI), ed il giorno dopo sabato 3 al NEW O'CONNORS PUB di Quaregna (BI)!!!
SEE YOU NEXT YEAR, BRESCIA!!!
LET THERE BE LOVE!!!
THE BAND